Five things grownups should do before going online this summer
A head teacher has come up with a checklist for children to complete before they access computer games or social media; here's one for adults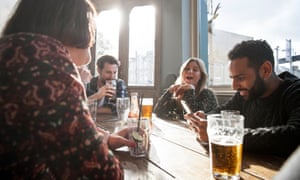 Shaun Fenton, headteacher at Reigate Grammar, has come up with a summer checklist of things a child should do each day before they're allowed access to computer games or social media. These include making, eating and clearing their own breakfast (that's one thing, not three), getting some exercise, doing a chore, playing a non-electronic game and reading a book. "A bit of structure and purpose can become something children secretly enjoy," he says.
But if it's important for children to have structured, non-screen time every day, it's no less vital for their parents. These are my five super summer activities for adults.
1. Get up, wash, get dressed
This one is lifted straight from the children's list, but for many adults, the day's first encounter with social media comes shortly after they open their eyes. Buy a real alarm clock; using your phone to wake yourself up is like keeping a glass of wine on your bedside table in case you get thirsty. I'm not going to set a time before which it's unacceptable to read what everybody thinks about what Steve Bannon said about Tommy Robinson, but if you haven't brushed your teeth yet, it's too early.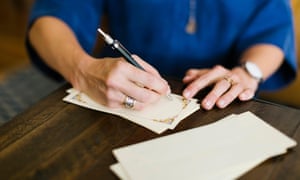 2. Compose a real letter
You probably haven't done this in a while, so don't overtax yourself. Don't write eight sides of A4 to an old schoolfriend; they'll think you've gone mad. Start with something short and simple, such as: "I know what you've been up to." Post it directly through a random neighbour's letterbox.
3. Get exercised
Try becoming enraged about something real and nearby, rather than some clown's moronic tweet about last night's Love Island. You must have a toilet that leaks or a lampshade that won't sit straight. It's easy to get worked up about this stuff if you practise.
4. Go to the pub
Obviously, it's more fun to drink alone while ordering loads of stuff off eBay, but if the social skills needed to consume alcohol in the company of strangers aren't nurtured, they will die. While it can be hard to fit this activity into a busy week, most pubs keep surprisingly accommodating hours. I'm not going to set a time after which it's acceptable to go to the pub, but if you have brushed your teeth, you're probably fine.
5. Queue at the bank
If you do not regularly experience the frustration of standing in a long, unmoving queue with nothing to occupy yourself, then you will never truly know peace. Let your blood boil while watching the bank teller studiously doing some paperwork at their window instead of dealing with the next customer. If nothing else, you will sleep well tonight.
How to spot age-related macular degeneration
Every day in the UK, nearly 200 people develop a condition that can lead to visual impairment or even blindness. How do you identify the symptoms and what's the treatment?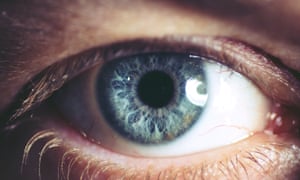 Fifteen years ago, Lorna Blakeney thought she had a lump of mucus in her eye. "I was sitting reading a book after lunch and suddenly realised there was something in my left eye. I tried to blink and rub it away. I thought a night's sleep would help. But in the morning, it was still there. I didn't do anything about it for two weeks, which was stupid of me, especially as my daughter is an optometrist."
Lorna's daughter sent her mum straight to an ophthalmologist. "But it was too late. I was diagnosed with wet age-related macular degeneration (AMD); there was no treatment in those days and I was told there was an 82% chance that my other eye would go, too."
Lorna's daughter, Dr Sue Blakeney, is a clinical adviser at the College of Optometrists. She says that what happened to her mum is not uncommon. "Macular degeneration causes damage to the part of the retina responsible for central vision. It affects one eye first, so you often don't notice it unless you close one eye at a time; you can be almost blind in one eye and not be aware of it." Lorna is even more pithy: "You have two eyes – make sure you compare them. One is often stronger than the other, but if things change, get help."
Ophthalmologist Pearse Keane of Moorfields eye hospital in London says that AMD is the most common cause of irreversible sight loss in the UK and Europe. "Every day in the UK alone, nearly 200 people develop the severe, blinding forms of AMD. There are two main forms of AMD – a 'dry' type and the 'wet' one. Wet AMD has nothing to do with watery eyes but is so-called because abnormal blood vessels grow under the centre of the retina (the nerve tissue that lines the back of the eye). These blood vessels leak fluid and bleed easily, and this can cause severe visual loss because it is such a sensitive area."
Keane says that, until about 10 years ago, there was no effective treatment for the wet form of AMD, but now it can be treated with regular injections of drugs such as Eyleaor Lucentis into the eye. They block the growth of new blood vessels and reduce the leakage of fluid from existing vessels. This improves sight substantially in about a third of patients and prevents further worsening of vision in about 95% of cases. However, the effects of the drugs last only one to two months, so people need frequent injections over long periods of time.
Andrew Lotery, a professor of ophthalmology at the University of Southampton, says everyone over 50 should at least be aware that if they have a loss of vision in one eye that is not corrected when they put on their glasses, then it could be rapidly developing wet AMD. "You should be seen in hospital within a week because scarring develops if wet AMD is left untreated." Optometrists and ophthalmic practitioners (doctors trained to examine eyes) can look for early signs of macular degeneration and will refer on urgently if they are concerned. In the past, diagnosis relied on a slit-lamp examination – a contact lens put on the eye and observed through a microscope looking for thickening of the retina – and a fluorescein angiogram (FA), which involves an injection into a vein in the arm to highlight blood vessels in the eye. But "FA makes lots of people sick and occasionally causes severe allergic reactions," says Lotery.
Happily, there is an alternative now. "The initial diagnosis of wet AMD, and the need for follow-up treatments, is determined with a form of retinal imaging called optical coherence tomography (OCT)," says Keane. OCT is a relatively new form of medical imaging, having been around since 1991. It is analogous to ultrasound except that it measures the reflection of light waves, rather than sound. Most people with known retinal disease have an OCT scan at every hospital eye clinic appointment and get offered more injections into the eye if there are signs of "fluid".
Lotery says the price of OCT machines are coming down all the time although they still cost around £50,000 each. There are also now handheld OCTs, which some believe will make detecting eye disease as "easy as scanning a barcode", but Lotery urges caution: "Don't rush out to buy one. You still need a trained health professional to interpret the results – it's easy to misinterpret them."
Machines are also being trained in diagnostic techniques. Google's DeepMind has used data from thousands of OCT scans to develop an algorithm that can diagnose wet AMD at least as quickly and effectively as eye specialists can. A partnership with Moorfieldsand the NHS will shortly publish more detailed results.
AMD develops as the eye ages – and Blakeney says other risk factors include a family history of AMD, smoking, excessive exposure to UV light and, possibly, to screens. Maintaining a normal weight may be protective and there is probably a role for foods that contain dietary pigments, such as blueberries and peppers. "There is no good evidence that the general population should take supplements, but if you already have AMD in one eye, it may be advisable."
Dry AMD is less severe than wet, progresses over years rather than months and causes more gradual loss of central vision. "Unfortunately, there is no effective treatment for dry AMD, although there are many clinical trials under way," says Keane.
The exciting developments in diagnosis and treatment of wet AMD have come too late for Lorna Blakeney. She is one of the 360,000 people in the UK who are registered as blind or visually impaired. Six years after her initial diagnosis, Lorna noticed that the venetian blinds in her bathroom window looked wiggly in her remaining sighted eye. "This time, I had injections of the drug Lucentis into my eye. I thought it would be a magic bullet; it is for many, but it wasn't for me. Gradually, I lost the sight in the eye and I'm now registered as severely sight impaired, with only a bit of peripheral vision left."
"There is life after AMD. I manage pretty well, with every gadget known to man." She uses software on her phone and a tablet with "speaking" icons, has voice recognition software to dictate emails, a talking watch, clock, kitchen scales, measuring jug and microwave. One gadget rests on the edge of a mug and beeps twice; once for the water and once for the milk, to make a perfect cup of tea without spillages. Another clips on to her glasses and scans and speaks the writing on food labels in the supermarket. Lorna says all these aids are enormously helpful, but they don't come cheap and most are not subsidised.
"If I go out on my own, I have a symbol cane to let other people know that I can't see them although I have enough peripheral vision that I can move around without bumping into things. Not being able to read is biggest nuisance. One very posh British restaurant we went to had the French 'mesdames' and 'messieurs' in pale grey letters on a pale-green sign. I didn't stand a chance."
Trump Putin: US president reverses remark on Russia meddling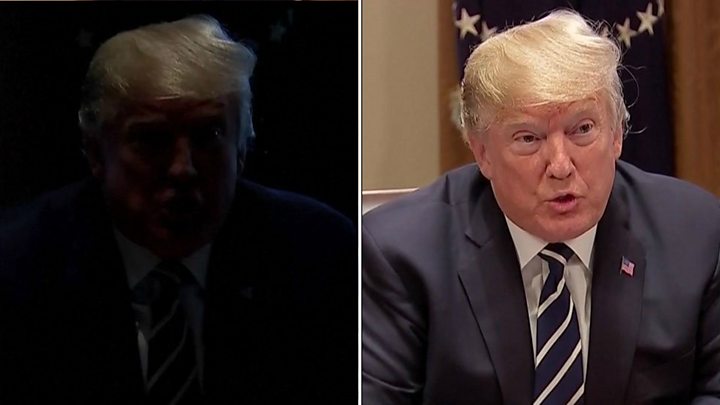 US President Donald Trump has said he accepts US intelligence agencies' conclusion that Russia interfered in the 2016 election – despite declining to do so just a day ago.
He said he had misspoken on Monday and had meant to say he saw no reason why it was not Russia that meddled.
The original comments, after he met Russian President Vladimir Putin in Helsinki, drew a barrage of criticism.
Even some of Mr Trump's allies had urged him to clarify his stance.
In his latest remarks, he added that he had "full faith and support" in US intelligence agencies.
Secretary of State Mike Pompeo is to appear before Congress next week to answer questions on what happened during Mr Trump's two-hour meeting with President Putin on Monday.
---
Damage done
By the BBC's Anthony Zurcher in Washington
Does Donald Trump believe in ominous metaphors? As he affirmed his support for US intelligence agencies, the lights went to black in the White House conference room.
Once order was restored, he said he had been in the dark as to why a storm had swirled around his presidency since his Helsinki summit with Vladimir Putin. It was, he said, because he had misspoken.
That is going to be hard for many of the president's critics to swallow, however. Even if he did mean to say, "I don't see a reason why it wouldn't be Russia", it is a pretty weak way to confront the head of a nation accused of targeting the heart of American democracy.
What is more, the context of the president's comments make a simple slip of the tongue seem less likely.
At the very least, the president gave his supporters some material to rally around.
The damage, however, has been done. Mr Trump can give as many White House statements as he likes, but on the biggest stage – standing beside the Russian president – he fumbled. All the explanations cannot change that.
---
What Trump said then…
The controversy centres on a response he gave to a question at a news conference on Monday following the summit with Mr Putin.
This is an extract from the transcript posted by the White House.
REPORTER: President Putin denied having anything to do with the election interference in 2016. Every US intelligence agency has concluded that Russia did. My first question for you, sir, is, who do you believe?
TRUMP: My people came to me… they said they think it's Russia. I have President Putin; he just said it's not Russia. I will say this: I don't see any reason why it would be.
…. what he says now
Mr Trump said he had reviewed the transcript and realised he needed to clarify.
"In a key sentence in my remarks, I said the word 'would' instead of 'wouldn't," he said.
"The sentence should have been: 'I don't see any reason why I wouldn't' or 'why it wouldn't be Russia'. Sort of a double negative."
The US president added: "I accept our intelligence community's conclusion that Russia's meddling in the 2016 election took place. Could be other people also. A lot of people out there."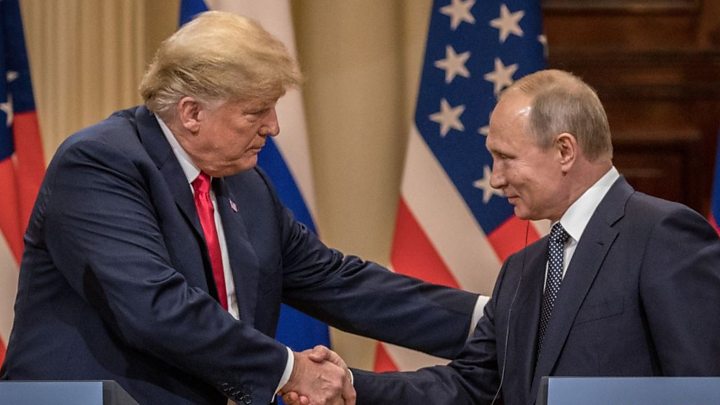 Mr Trump said that the interference had had no impact on the election, in which he defeated Hillary Clinton.
However, he did not respond when reporters asked him if he would condemn Mr Putin.
During the press conference with President Putin – in the same answer as the transcript above – Mr Trump went on to say: "President Putin was extremely strong and powerful in his denial today. And what he did is an incredible offer; he offered to have the people working on the case come and work with their investigators with respect to the 12 people. I think that's an incredible offer."
How great is the outrage?
Chuck Schumer, leader of the opposition Democrats in the Senate, said Mr Trump's retraction of his previous comments was a sign of weakness.
"He made a horrible statement, tried to back off, but couldn't even bring himself to back off," he told the Senate. "It shows the weakness of President Trump that he is afraid to confront Mr Putin directly."
Republicans and Democrats alike were dumbfounded that Mr Trump had sided with Russia over his own intelligence officials after Monday's summit.
The US and Russia have been long-term adversaries and remain far apart on major issues. Some lawmakers were also upset that Mr Trump had refused to offer specific criticisms of Russia and Mr Putin, instead saying both countries were responsible for poor relations.
Even one of his most loyal Republican supporters, Newt Gingrich, said the comments were the "most serious mistake of his presidency".
House Republican Mike Turner accused Mr Trump of having damaged American foreign policy by failing to take Russia to task.
"He's given them a pass and is certainly not holding them accountable for what they're doing," he added.